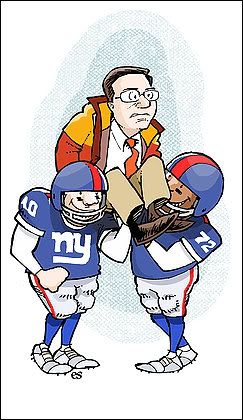 Gene Weingarten - Memo to Dan Snyder: Thank you for your stewardship of the Redskins
"But I digress. The point I want to make - and I think I can speak not only for myself but for all Giants fans - is that you have been very, very good to us, and we appreciate it. It's not easy being an ardent supporter of a football team. In this sport, the cliche is mostly true: On any given Sunday, any team can defeat any other team. Such is the nature of this game, which is so often influenced by injuries and so often subject to the effects of intangibles like momentum. This keeps the devoted fan in a constant state of stress. You can't take any win for granted.
But thanks to you, twice a season we can. Nothing is certain, of course, but when a Redskins game approaches, we at least know that we will be facing a team in spiritual disarray, whose players have been assembled largely by whim and impulse and ego, coached by a person as insecure as a teenage girl at a prom, with a nose zit."
Big Blue 4 Life!